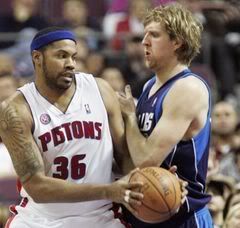 The Dallas Mavericks defeat the Detroit Pistons 112-91. The Mavericks came to play tonight after getting blown out of the building by the Bucks on wednesday night by the score of 133-99.
Today the Mavs ran straight out of the gate they led at the end of each quarter, and the Mavs never looked back. it has a complete game from everyone the starters played great and the bench also came to play tonight.
The Dallas Mavericks will play the Boston Celtics on sunday at 12pm on ABC. It should be a great game tune in to find out!
Boxscore


J.Howard 22pts 5reb
D.Nowitzki 26pts 7reb
E.Dampier 5pts 6reb 2blk
A.Wright 6pts 4reb 2stl
J.Kidd 11pts 10Ast3reb
B.Bass 18pts 6reb 1blk
J.Terry 14pts 6ast