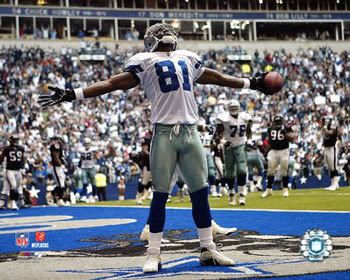 Well the
Dallas Cowboys
go into the bye week with 6 wins a 1 lose to the New England Patriots, so far they are #1 in the NFC and they are just outscoring teams but the defense is coming along, just wait till we get Anthony Henry back and it will be in tip-top shape. Why? Because Henry and Newman haven't played together this entire season, they should be one of the best Corner back duos in the NFL!! In my opinion the Bye week came in a great time for the Cowboys, they are a little banged up but they are small injuries, and their 2 next games are on the road, not to mention that they are against the
Philadelphia Eagles
and the
New york Giants
those will be toght games. Yeah the eagles in my opinion arn't that great but nontheless, they are a divisional opponent, The Giants on the other hand are a very HOT team they have won 5 in a row but I think the cowboys should be able to pull it off!!! Right after that they get the
Washington Redskins
at home which is another divisional game and a rivelry game to say the least!!!! The cowboys have thoght sledding ahead but I think they can pull it off!!!!!
What do you think can they win these next 3 games?
What will their record be at the end of the season?
Thanks people!!! Please Comment!!!!