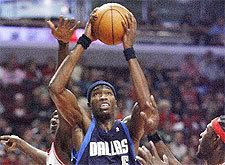 Whats up people, this is my first blog so bear with me, I am still learning. Well i dont know if you know that Josh Howard, small forward for the DALLAS MAVERICKS has been suspended 2 regular season games by the NBA for pushing Brad Miller, center for the SACRAMENTO KINGS. This started when Miller push Devin Harris to the floor, Harris sprung back up into Millers face and confronted him, Josh Howard ran to devins aid and forearmed Miller in the neck area. Howard Said,"I had to do what I had to do to protect my teammate," he said. "I knew something was going to happen. I was prepared to take what was given to me", and if I had to do it all over again I would have done the exact samething. As for Harris, he is just happy and knows that if it ever happens again Howard has his back, "You got to protect yourself on the court as well as your teammates," Harris said. "And Josh always has my back. If there's any evidence of anything ever happening, I know he's got my back. That's not even a worry." As for Brad Miller he didnt even get a fine, I my opinion thats just another way of the NBA doing the Mavericks wrong!!! But I do know this the Mavs wont be labeled as "SOFT" ever again!!! You can see the Video by clicking the link below!!
http://youtube.com/watch?v=Hq0hR49nwCE
Do you agree with what Howard's Actions? Was the NBA right in suspending Howard for 2 Regular season games?